Your solution to start selling online.
Profit from individual booking processes, 24/7 online payment, automated invoicing, and marketing intelligence.
Start your own event/service marketplace.
Manage
Automate tasks & processes.
Book
Digitalize bookings & payments.
Market
Generate visibility & market coverage.
A Platform to Digitalize Marketplace Processes.
Our whitelabel solution provides highest flexibility & will be individualized to your requirements.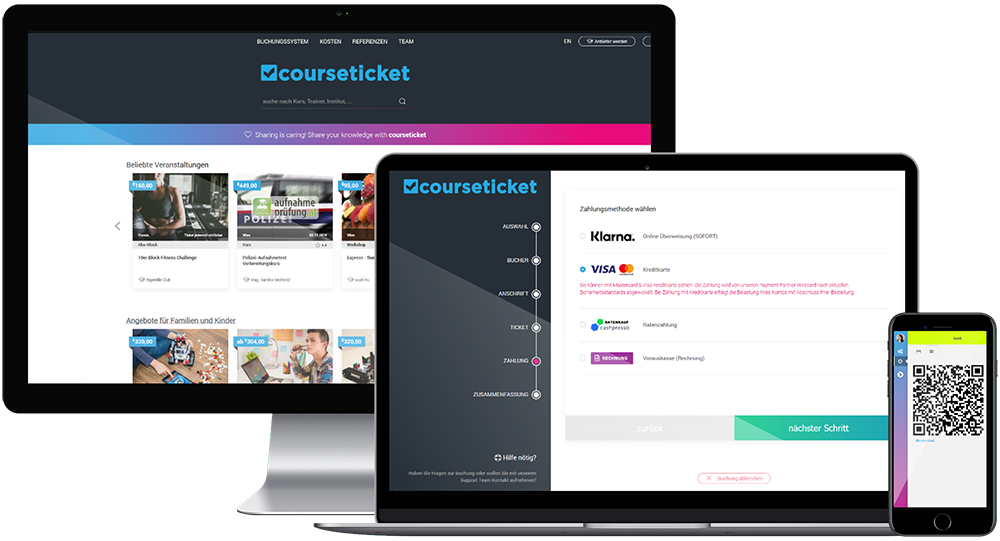 Modern Marketplace
Enhance customer engagement via an online service marketplace.
Digital Booking
Let your customer pay online via without any barriers.
Live Tutoring & Consulting
Web-based live video sessions based on real-time availability & on appointment.
Modern Architecture.
User Experience
Frontend fits to user-journeys of target audience.
Visibility
Analytics allow search engine optimization (scope) and conversion optimization.
Performance
Core is set up on a dedicated scalable cloud-based infrastructure.
Prefered Partners
We set up your whitelabel already with various ready-to-use integrations. Customer Relationship Management (CRM), Marketing Automation (BI), Short Message Service (SMS), Content Management System (CMS) play a key role in a modern software architecture.
Mobile First.
Decide if you launch your service marketplace via Web and/or App.

Responsive Marketplace
Available information & pages are compatible with desktop, tablet & smartphone.
Mobile Booking & Ticketing
Online marketplace for 24/7 booking includes state-of-the-art online/mobile payment systems.
Easy Check-in
Handle entry management & track attendence.
Open Education & Classes
e.g. digital trainings solution
Internal Training Academies
e.g. digital recruiting solution
Consultings & Tutoring
e.g. digital mentoring solution
Conventions & Fairs
e.g. digital conference solution
Agencies & Subscriptions
e.g. digital nanny agency solution
Venues & Appointments
e.g. digital health solution
ROI. Maximize Return-on-Investment.
Framework supports you in winning new visitors to conversion of a customer and provides various cross- und up-selling possibilities.
Let us help you build your service/event marketplace.
We support you based on more than 8 years of experience in the fields of digital marketplaces, e-commerce, scalable cloud-services & marketing automation.
Integrated Realtime Communication.
Live Availability
Web-based online/offline status via real-time engine.
Easy Appointments
Online and in-person appointments made easy.
Live Videostream
100% web-based audiovisual real-time communication.
CPA. Minimize Cost-per-Acquisition.
Keep Customer Acquisition Costs low by making use of various engines.
Get in Contact
Drop us a line anytime, and one of our customer service reps will respond to you as soon as possible.
whitelabel@courseticket.com
Visit us
Siebenbrunnengasse 17, Top 7
1050 Vienna
AUSTRIA